Prairie Adventist Christian eSchool (PACeS) is an Alberta-based online school offering online K-12 education to students across North America. Our program meets the requirements of the Province of Alberta and the North American Division of the Seventh Day Adventist Church. We also offer Home Education Supervision for Alberta residents.
PACeS
Prairie Adventist Christian eSchool events.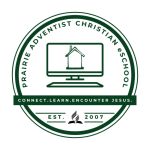 PACeS Canada
Connect.learn.encounter Jesus K-12 Online Learning Alberta Home Education Learning pacescanada.org
Let others know! Share PACeS with someone who needs us!